This is a list of the many artists who drew the Hawks since their debut in 1940.
Dennis Neville (19-?)
An early assistant artist for Joe Shuster on Superman in the Golden Age, Dennis Neville drew the first two stories of Hawkman in
Flash Comics.
He also did a lot of work on Shuster and Jerry Siegel's other classic creation, Slam Bradley, which preceded Batman by about two years in
Detective Comics.
He worked on at least four Hawkman stories before resuming more work as penciller on Superman. While he wasn't one of the biggest names in comics in those early days, he certainly did work on plenty of important characters and titles. Unfortunately, beyond this, I couldn't find any more data on him.
Sheldon Mayer (1917-1991)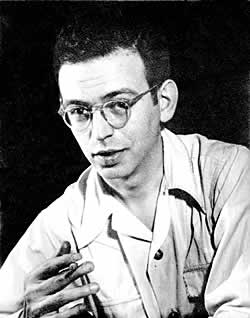 Mayer first began working in comics when in his teens, doing various small jobs in cartooning, and became an assistant to Maxwell C. Gaines (father of Bill Gaines, who succeeded him in his jobs after his father's death and was the EIC and chairman of MAD magazine in his time too), going to work for him in 1935 and helped him to work on creating the pamphlet format for comic books we know today.
Whenever there was space available in
Popular Comics
or even
The Funnies,
he'd try to come up with something of his own to fill it. Later, when promoted to editor at DC Comics, he was instrumental in helping Gardner Fox to launch Flash and Hawkman in
Flash Comics
in 1940, and even Green Lantern in
All-American Comics
and the Justice Society of America in
All-Star Comics
that same year.
Sheldon Moldoff (1920-2012)
Sheldon Moldoff was born in New York City in 1920. He learned how to draw with chalk for starters, using the sidewalks of Manhattan as his first canvas. At the age of seventeen he sold his first cartoon and soon afterward he became first assistant to Bob Kane on the
Batman
series, working with Kane on this series on and off for thirty years.
In 1940, Moldoff drew both the
Black Pirate
and
Hawkman
for DC Comics. From about 1939 he was one of DC's most prolific cover artists, illustrating many covers, including the cover to
All American Comics #16,
the first appearance of Green Lantern. His style at the time was very illustrative. In 1953 he became one of the lead artists on Batman with Dick Sprang and Win Mortimer, which he drew for the next 14 years.
Moldoff left comics in 1967, during the big DC clean-out, and several other golden age artists were also let go. From there he went into film production, working on numerous animated projects, one of which was storyboarding the
Courageous Cat
and
Minute Mouse
cartoon series as well as hundreds of others. He also produced comic books for chain restaurants companies such as Burger King and Red Lobster.
Joe Kubert (1926-2012)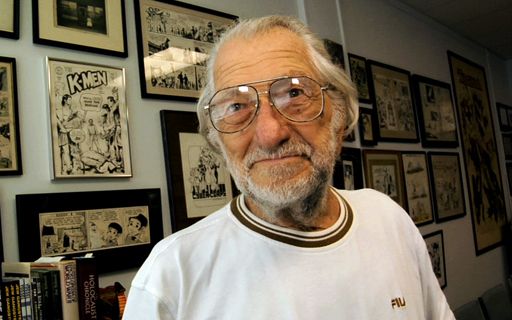 Joe Kubert began working in comics and artistry at age eleven, as an apprentice for the production company of Harry Chesler. He has worked in the field ever since, and his more than sixty year history in the medium includes producing memorable stories of such characters as
Hawkman, Tarzan, Enemy Ace, Batman, The Flash, and Sgt. Rock
for DC Comics. He also edited and illustrated
Sgt. Rock,
which spun out of
Our Army at War. Sgt. Rock
was published for 30 years until the early 1990's.
In 1952, he was a principle in the creation of the first 3-D comic book (for
Mighty Mouse
). During the 1960's, he illustrated Robin Moore's novel,
Tales of the Green Beret,
for the Chicago-Tribune New York News Syndicate. Some of the newspapers that it appeared in were the NY Daily News, Chicago Tribune, Los Angeles Times, and so on. He has also been responsible for
Winnie Winkle
(for Tribune Media Services) and
Big Ben Bolt
(for King Features Syndicate). Joe was an editor for DC Comics for a period of 25 years.
Kubert has written and illustrated the following graphic novels:
Tor, Abraham Stone,
and
Yossel: April 19, 1943.
He has also illustrated
Sgt. Rock: Between Hell and a Hard Place.
Kubert was inducted into the Harvey Awards' Jack Kirby Hall of Fame in 1997, and the Will Eisner Comic Book Hall of Fame in 1998.
Murphy Anderson (1926-2015)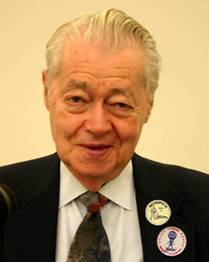 Primarily an inker in his career, he also did plenty of artwork, beginning his job in the Golden Age during the 1940s, and his first assignments included Sky Rangers for Fiction House. Another one of his earliest assignments was the
Buck Rogers
comic strips, and he went on to work on such characters as Hawkman, Batgirl, Zatanna, Elongated Man and the Spectre for DC.
As an inker, Anderson also co-created what many of his fans consider to be early defining images of the modern-day Flash, Adam Strange (whose spacefaring costume he designed), Atom, Superman and Batman. With his frequent collaborator, penciler Curt Swan, the pair's artwork on
Superman
and
Action Comics
in the 1970s came to be called "Swanderson" by the fans. In 1973, he formed Murphy Anderson Visual Concepts, which provides color separations and lettering for comic books. Some of his work at this time even included adaptations of Edgar Rice Burroughs'
John Carter of Mars
, which served as an inspiration for Adam Strange. In the 1980s, he was often an illustrator on
DC Comics Presents
. He also worked on a handful of comics for smaller companies too.
Richard Howell (19-?)
He got into the comics medium in 1977 with his self-published
Portia Prinz of the Glamazons
, one of the first creator-owned books at the time along with Will Eisner's own
A Contract With God
graphic novel. He'd co-edited a line of magazines called New Media/Irjax. He began contributing to both Marvel and DC in the early 80s, and some of his first works there included
The Shadow War of Hawkman
miniseries, and the
Vision and the Scarlet Witch
miniseries.
In 1993, he co-founded Claypool Comics, which lasted until 2006.
Jerry Ordway (1957-)
Beginning his career in small press fanzines, his first official work appeared in Tim Corrigan's Superhero Comics #4 in 1975, and he went on to become the artist/inker for
All-Star Squadron
, and co-creator of
Infinity Inc
. Ordway was also part of the effort to revamp the DCU after Crisis on Infinite Earths, and served as artist for Superman at the time. He was the inker for Curt Swan on the graphic novel
Superman: The Earth Stealers
in 1988.
In the mid-90s, he worked on the revamp for Fawcett's Captain Marvel, Billy Batson, in the Power of Shazam series, working as both artist and writer. Some of his inspirations in art include Gil Kane, Gene Colan, Dick Giordano, Joe Sinnott and Tom Palmer. Besides his work for DC, he also contributed to Marvel, working as inker on Fantastic Four when John Byrne was writer/artist, and later some work on Avengers. He also did work for Eclipse Comics and Image, creating a character called Wildstar at the latter.
Copyright Avi Green. All rights reserved.